Nubian Info: We keep a small herd of ADGA Purebred Registered Nubian goats. We test annually for CAE and have herd-wide negative results every year. We don't have any chronic or contagious health problems in our herd. We practice strict bio-security to keep our herd disease-free. Our entire herd is G6S Normal either by DNA test or by parentage. We participate in linear appraisal and continuous monthly DHIR. Our kids are all bottle raised with coccidia prevention. To see information about our feeding program click here.
Showing: While we do breed show quality goats, we refrain from showing them ourselves. We feel showing is not best for our herd's health which is a top priority for us. In addition, ADGA doesn't consider show wins in their data for genetic evaluations for a reason; show results are subjective. At shows your animal is only compared to the other animals who happen to show up at that specific show, not compared to the actual breed standard as it is in Linear Appraisal. So, while we love seeing goats showing well, we prefer to keep our herd bio-secure and use Linear Appraisal and DHIR to record our goats' quality and at the same time keep our goats from being stressed and exposed to other herds.
Visitor Information: Please call ahead to be sure we will be available to meet you as we do keep a busy schedule. For bio-security purposes, we also ask that when you visit, you refrain from wearing your regular barn boots and barn outerwear. Please wear clean shoes/boots and clean jeans/outerwear that you have not worn in any barn or around any other animals please. You will NOT be permitted inside the pens with the animals at any time. We will bring the animal(s) that you may be interested in out of the pen for your closer inspection. Thank you for understanding!
We are a Certified Dairy Goat Quality Producer through Langston University and we keep an active ADGA membership. We have some of the best Nubian bloodlines for milk and show with foundations from all over the United States. We have home bred does who have proven themselves by earning superior genetics and elite status as well as finding themselves among the breed leaders in the prestigious Top Ten lists. We take pride in breeding for beautiful breed character on strong, healthy, dependable dairy animals with steady, calm, affectionate dispositions, low input/high output conversion, and longevity. All of these positive traits make for productive, show quality dairy animals that last. So, whether you are looking for show or just quality dairy animals, consider a Camelot Cattle Co Nubian!
As you peruse our wonderful Nubians, note that each goat has their own section with a link to their own page with pictures and information such as pedigrees, production and appraisal records, reserved kid prices, breeding plans and references such as dams, sires, progeny, etc, as well as a link to their ADGA pedigree and records and a link to see their official CDCB data. The does are listed on this page by age, oldest first and getting younger as you scroll down; the bucks are listed after the does, again in descending age order. And again, links are provided for more information and pictures on each. If you are interested in reserving a kid or purchasing from us, please take a look at our Purchase Information Page. I have also added a Breeding Plan page if you prefer to view breeding plans in that format rather than on each doe's individual page. I have tried to make the site as informative as possible while keeping it as user friendly as possible. I hope I have succeeded at that but feel free to contact us if you have any questions. Enjoy!
Interested in purchasing one of our goats or reserving a kid out of our does?
Click here to see our purchase/reservation information.
Puff 3rd freshening udder full and milked out - 2017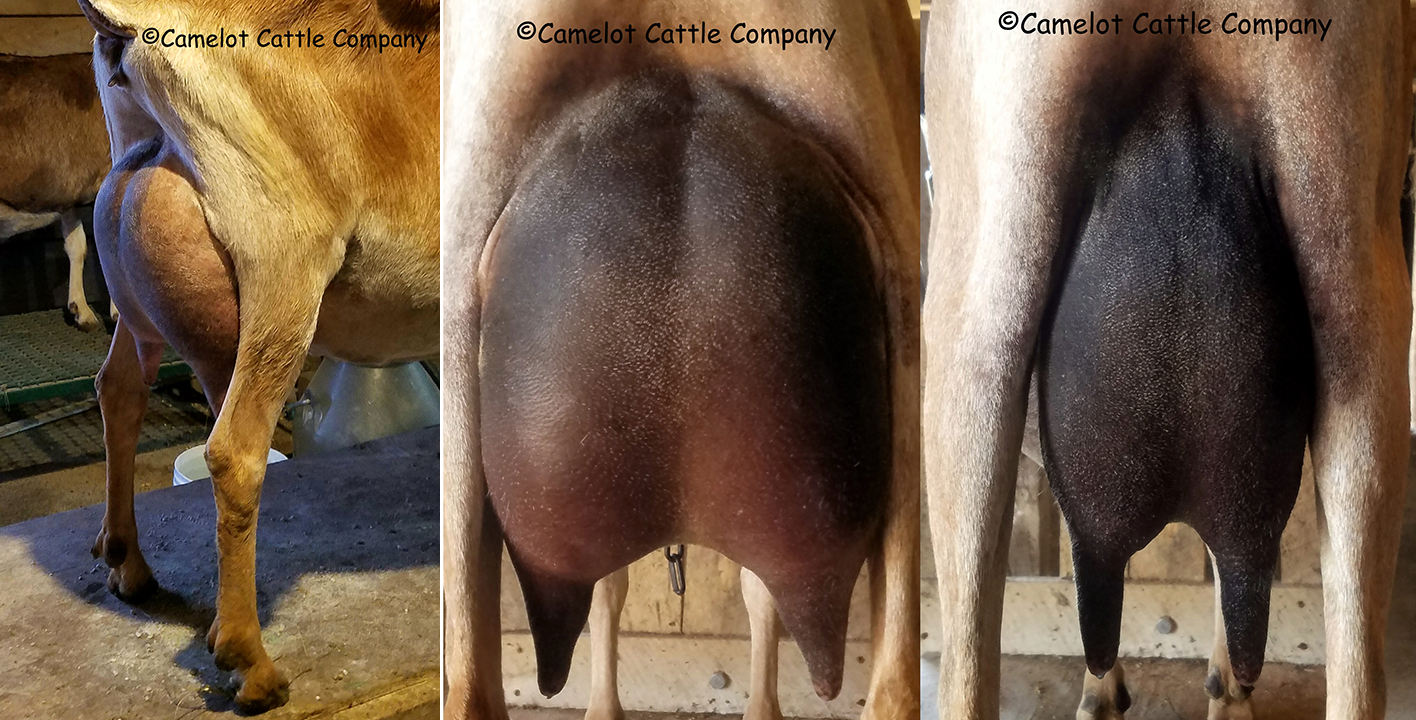 Puff pictured as a 4 year old.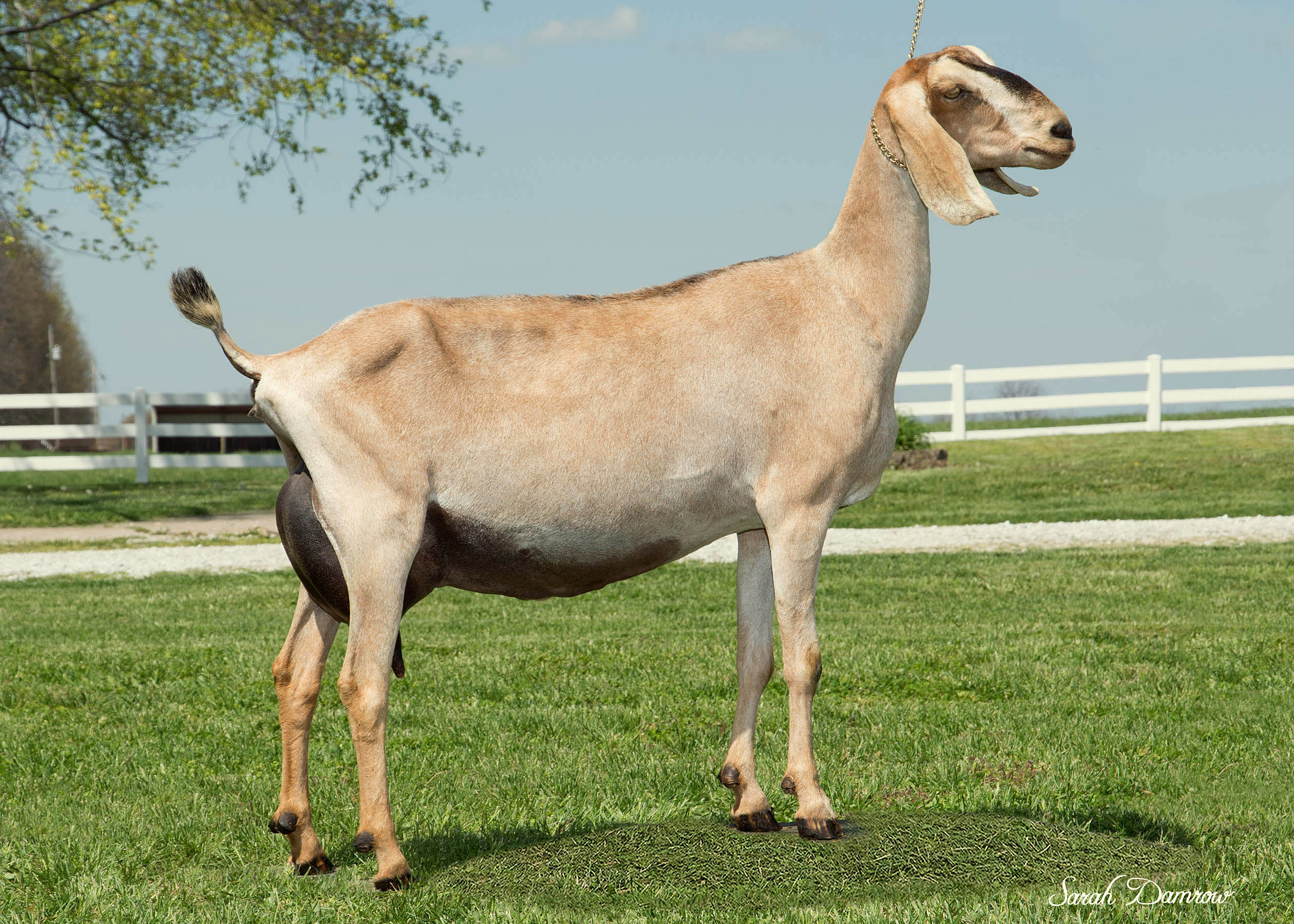 Nubilop Acres Flirt's Flirty 1*M E90 (VVEE)
2013 ADGA Nubian Doe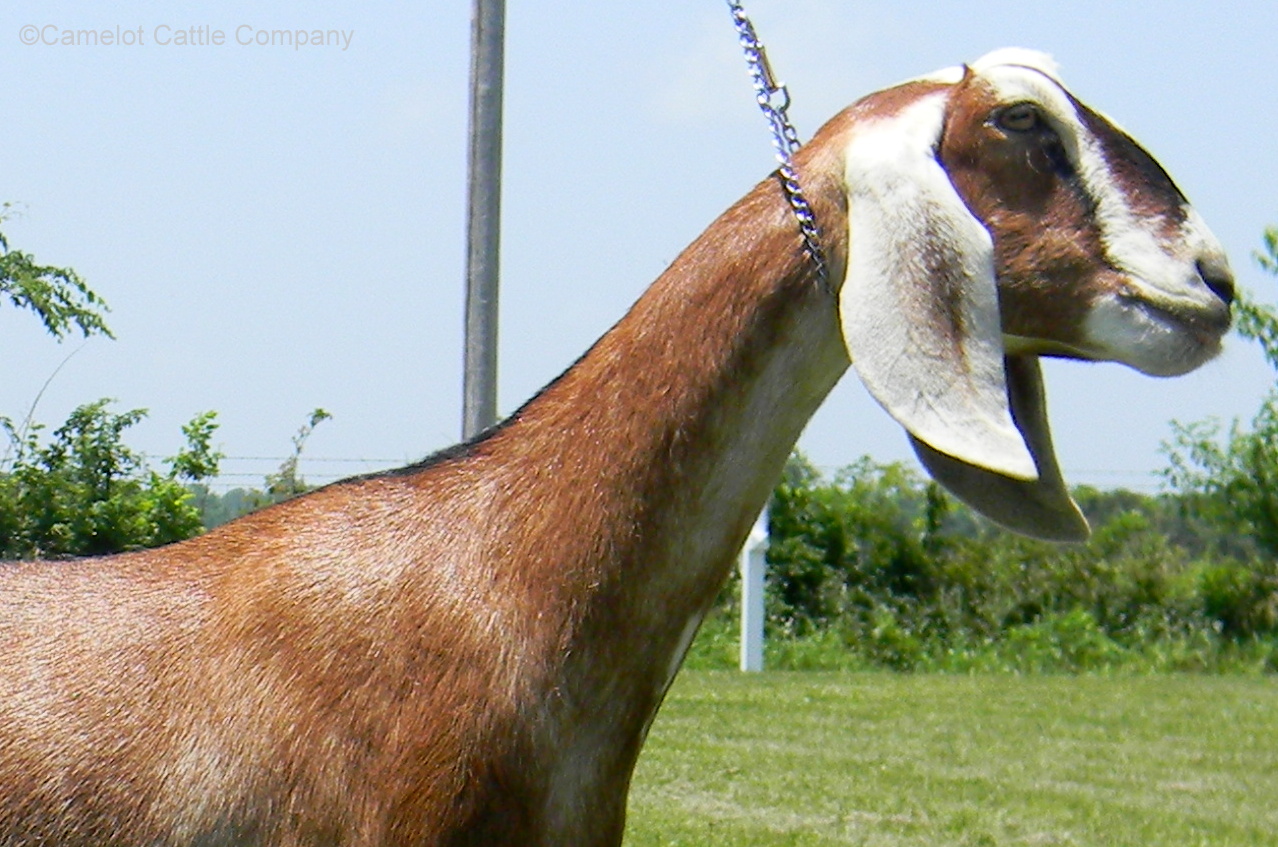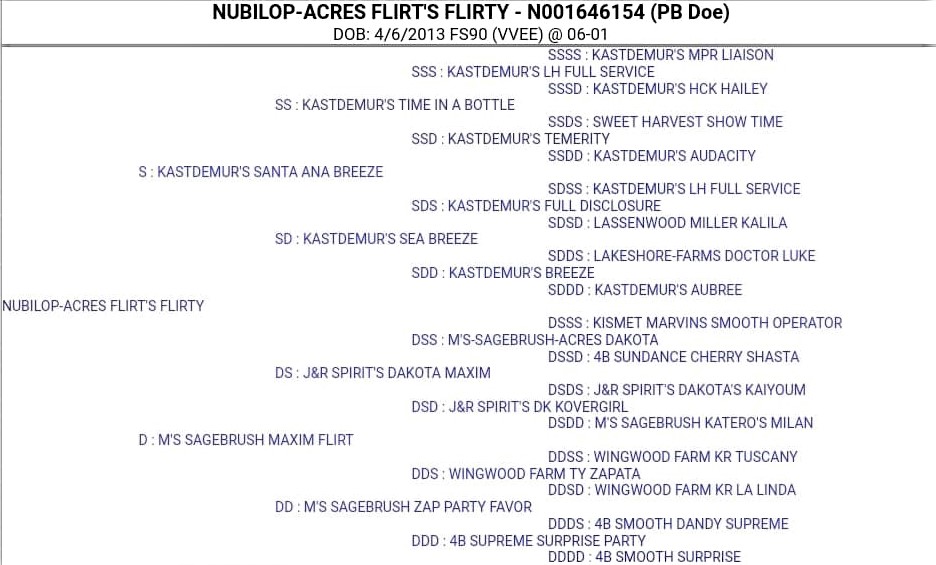 Flirty pictured as a 4 year old
SG Camelot Cattle Co Mischief 2*M E90 (VEEV)
2016 ADGA Nubian Doe

Superior Genetics - Breed Leader - Elite

**Multiple Time ELITE Doe**
**2019, 2020 and 2021 Top Ten Breed Leader Doe**
Leading her breed nation-wide at #1 in Milk, #2 in Butterfat and #5 in Protein in 2020
Camelot Cattle Co Fawkes 2*M V88 (VVEV)
2017 ADGA Nubian Doe
-Breed Leader-
**2020 and 2021 Top Ten Breed Leader Doe**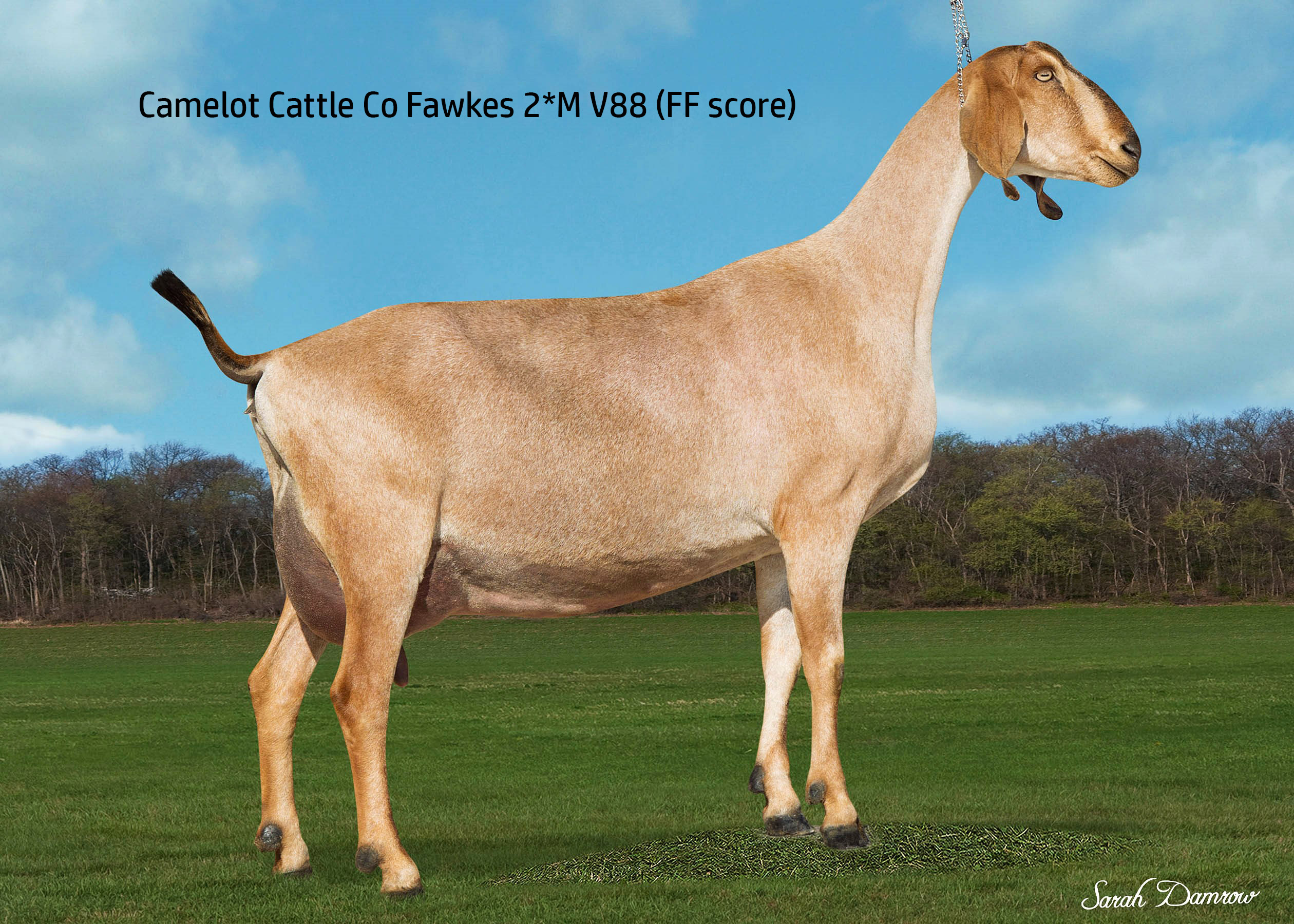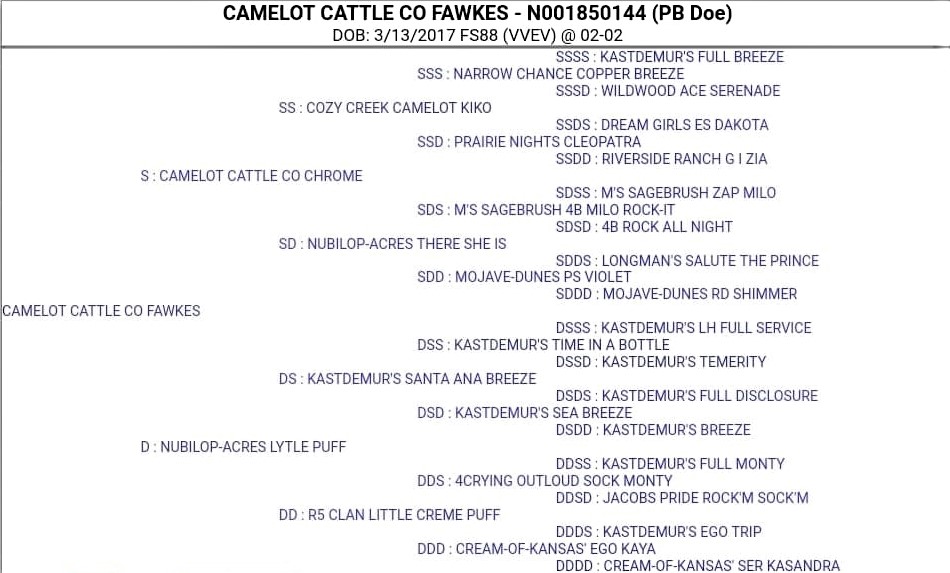 Fawkes as a yearling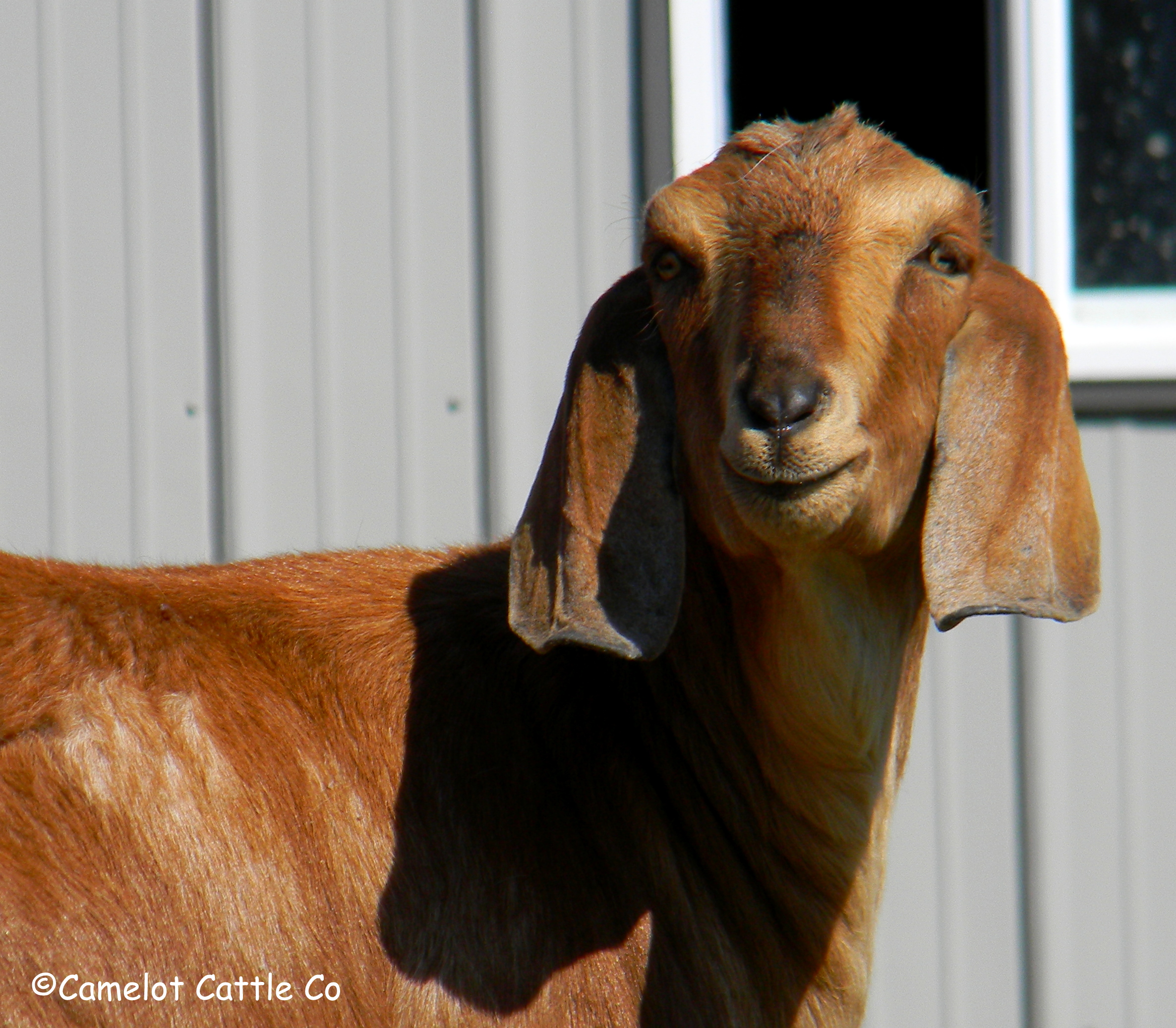 Camelot Cattle Co Harley Quinn 2*M E91 (EEEE)
2018 ADGA Nubian Doe
~2021 Top Ten Breed Leader Doe~
Harley's second freshening udder
Charlie picturedas a second freshener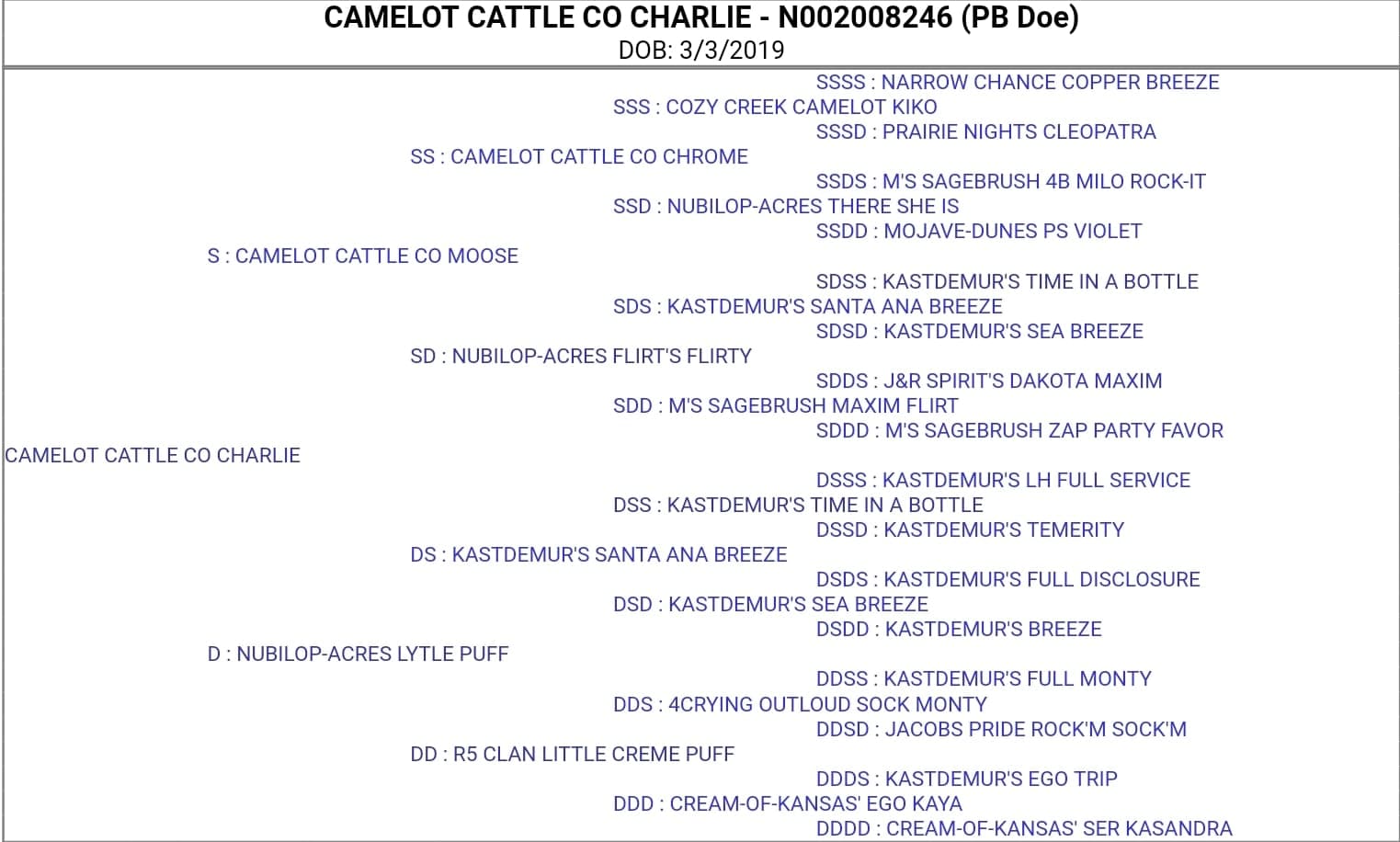 Ruby pictured as a second freshener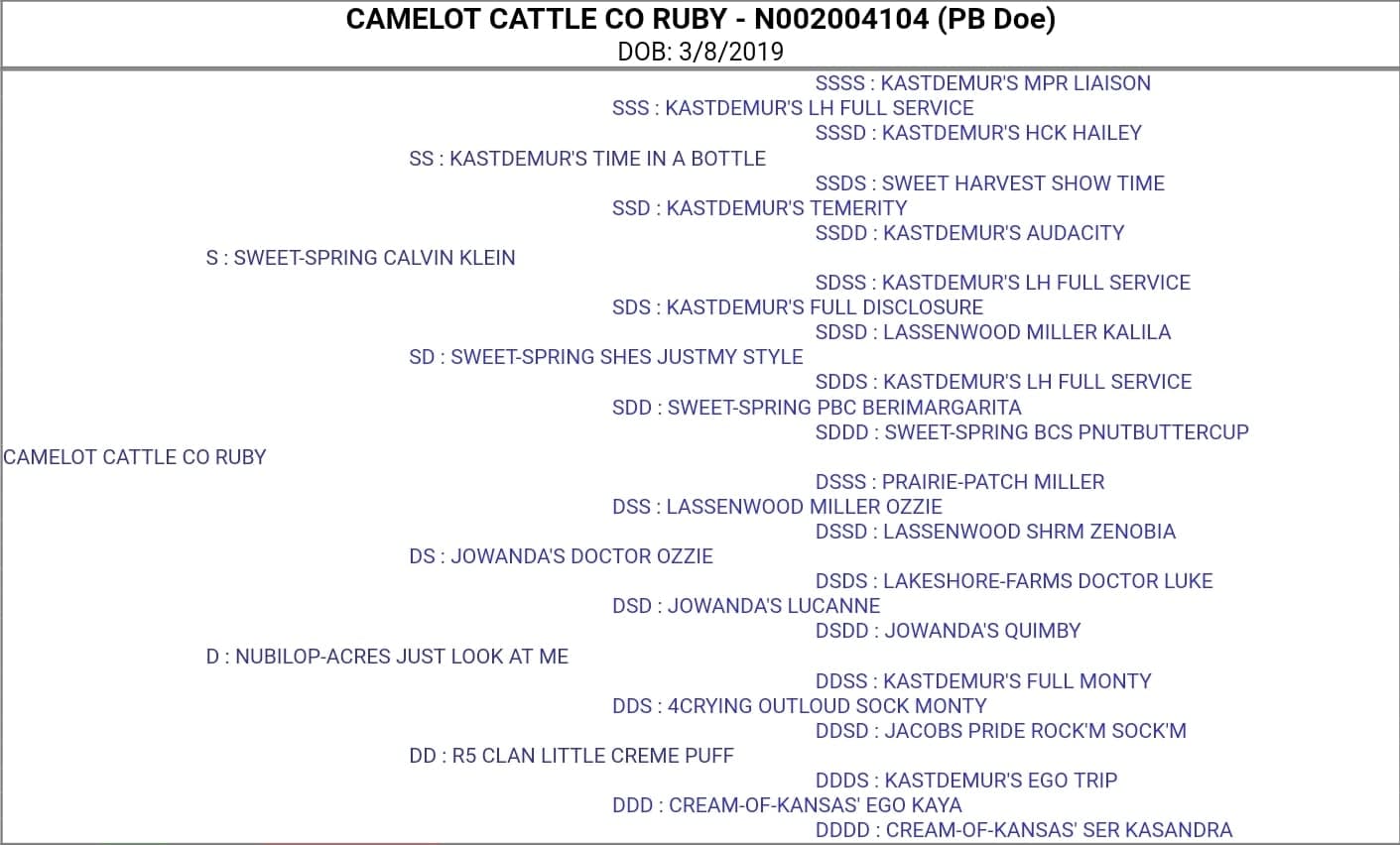 +*B Tamris Farm Sap's Onyx V87 (VEE)
2014 ADGA Nubian Buck
~2021 CDCB Top Buck ranked at 96 percentile~~Elite Buck~
~Top Ten Breed Leader and Elite sire~
Camelot Cattle Co Chrome E90 (EVE)
2014 ADGA Nubian Buck
~MultipleTop Ten Breed Leader Sire~
Camelot Cattle Co Moose E91 (EEE)
2018 ADGA Nubian Buck
~Brother to Elite Top Ten Breed Leaders on top and bottom~
~Full Littermate Brother to Top Ten Breed Leader Camelot Cattle Co Harley Quinn 2*M Ex91~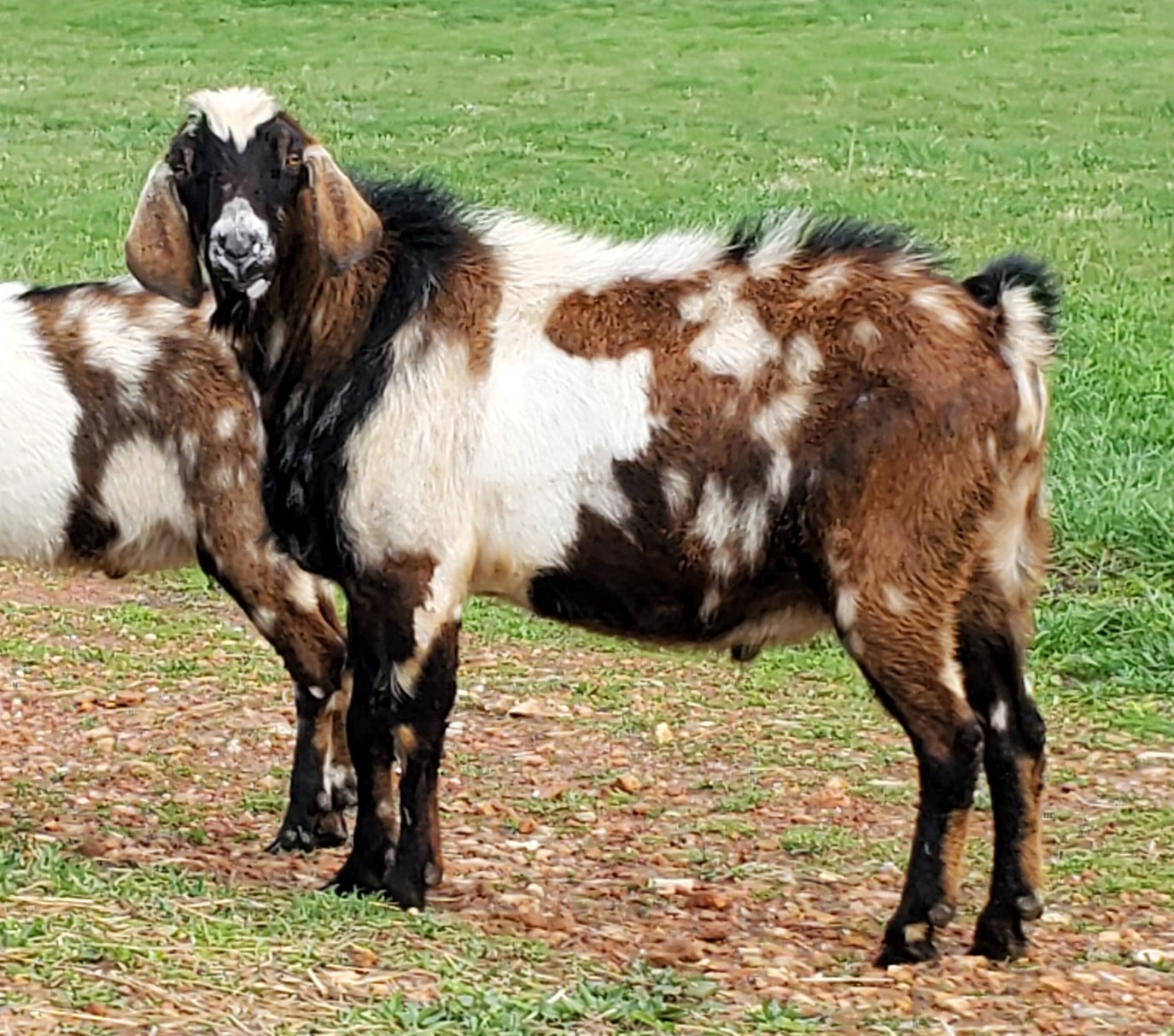 *B Camelot Cattle Co Oliver Wood V89 (VEE)
2020 ADGA Nubian Buck
~Full brother to multiple time Elite Top Ten Breed Leader SG Camelot Cattle Co Mischief 2*M Ex90~
Abraxan pictured above at 9 months of age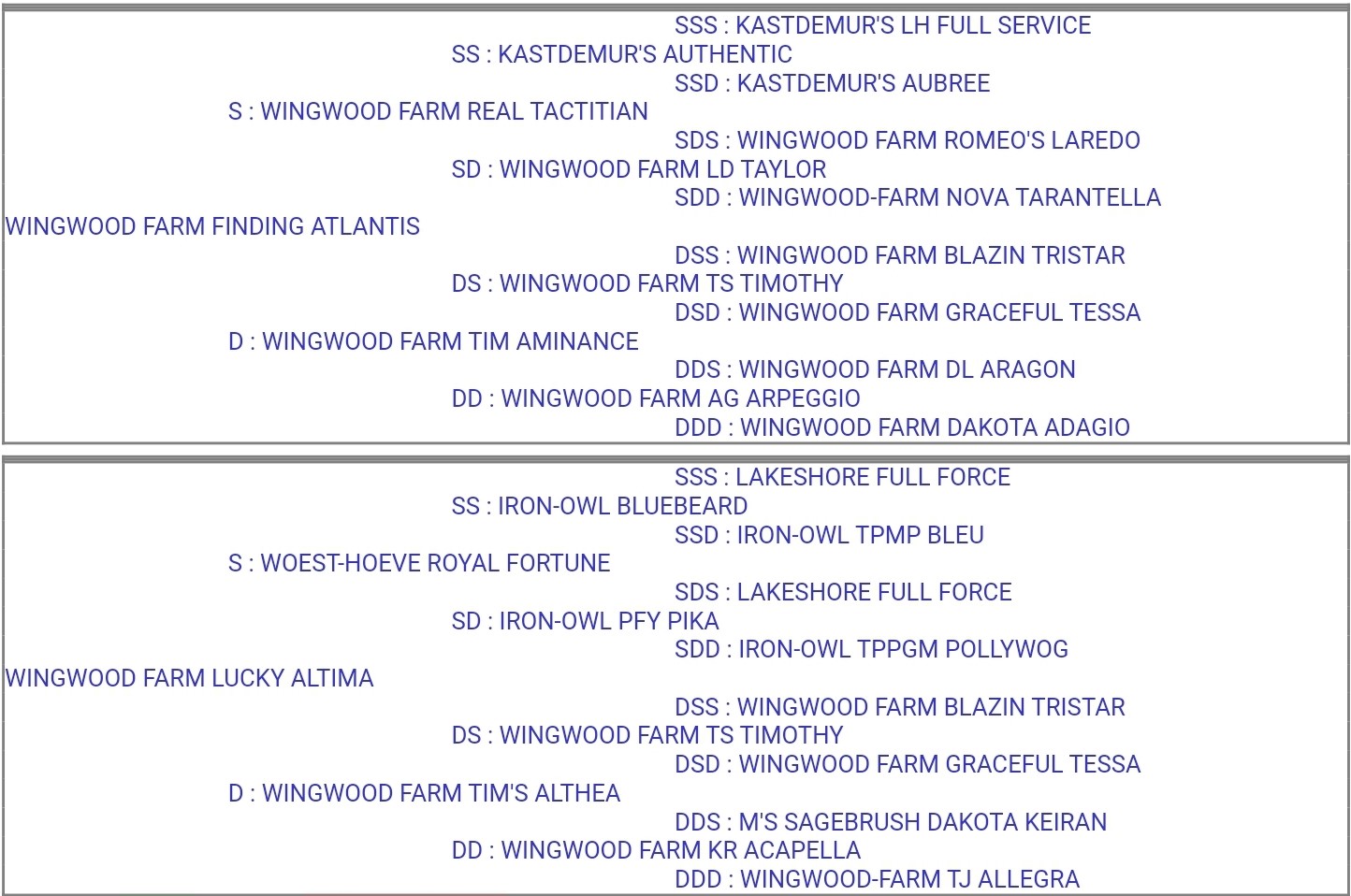 Interested in purchasing one of our goats or reserving a kid out of our does?
Click here to see our purchase/reservation information.